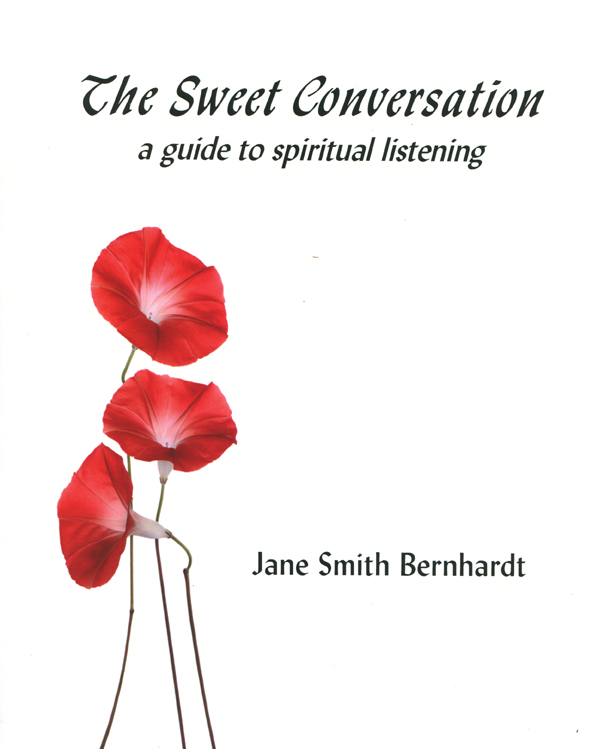 In this time of global upheaval, many believe that human consciousness is evolving: we are learning to attune to greater collective compassion. On a personal level, how does this evolution occur? How do we learn to receive universal love and wisdom? We are faced with continual challenges and questions in this life: Why am I here? Where am I going? Why is there suffering? In our times of need and uncertainty we wonder: What is the best source of guidance for me? It is the purpose of this book to offer a doorway into the sweet conversation with our own personal spiritual guidance. Through inspired messages and a series of simple exercises, this unique workbook gently invites the reader into a generous frequency of compassion and forgiveness. The author shares her own journey into dialogue with unseen helpers, beginning with the admonition to be gentle with the self, and wait…. Now she leads Listening Circles where many find an opening to unconditional love and wisdom. This book also includes guidance for hosting a Listening Circle.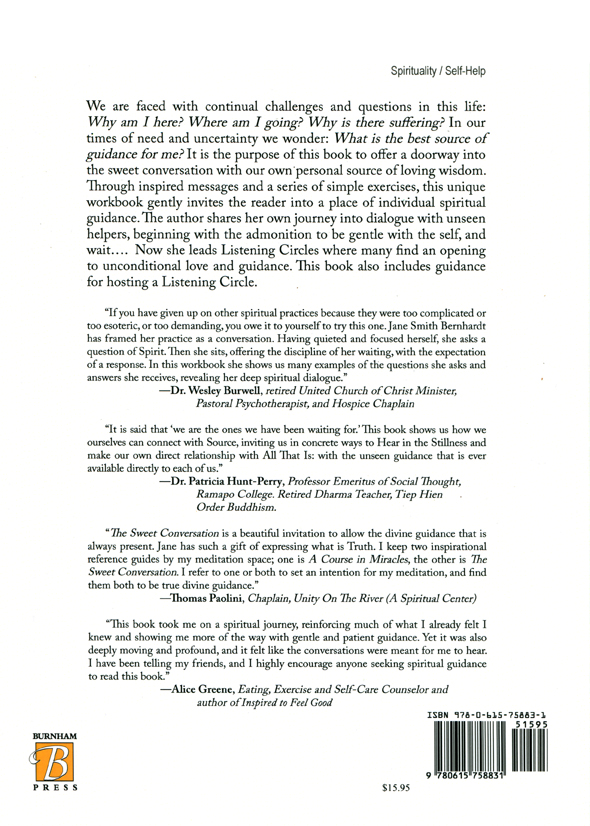 The Sweet Conversation is available at:
---

Read Some Reviews of The Sweet Conversation:


"If you have given up on other spiritual practices because they were too complicated or too esoteric, or too demanding, you owe it to yourself to try this one. Jane Smith Bernhardt has framed her practice as a conversation. Having quieted and focused herself, she asks a question of Spirit. Then she sits, offering the discipline of her waiting, with the expectation of a response. In this workbook she shows us many examples of the questions she asks and answers she receives, revealing her deep spiritual dialogue."

—Dr. Wesley Burwell, retired United Church of Christ Minister,

Pastoral Psychotherapist, and Hospice Chaplain

---

"It is said that 'we are the ones we have been waiting for.' This book shows us how we ourselves can connect with Source, inviting us in concrete ways to Hear in the Stillness and make our own direct relationship with All That Is: with the unseen guidance that is ever available directly to each of us."

—Dr. Patricia Hunt-Perry, Professor Emeritus of Social Thought,

Ramapo College. Retired Dharma Teacher, Tiep Hien

Order Buddhism.

---

"The Sweet Conversation is a beautiful invitation to allow the divine guidance that is always present. Jane has such a gift of expressing what is Truth. I keep two inspirational reference guides by my meditation space; one is A Course in Miracles, the other is The Sweet Conversation. I refer to one or both to set an intention for my meditation, and find them both to be true divine guidance."

—Thomas Paolini, Chaplain, Unity On The River (A Spiritual Center)

---


"This book took me on a spiritual journey, reinforcing much of what I already felt I knew and showing me more of the way with gentle and patient guidance. Yet it was also deeply moving and profound, and it felt like the conversations were meant for me to hear. I have been telling my friends, and I highly encourage anyone seeking spiritual guidance to read this book."

—Alice Greene, Eating, Exercise and Self-Care Counselor and

author of Inspired to Feel Good
Jane teaches and lectures on a variety of topics including spiritual guidance, portraiture, resistance and social transformation. Contact Jane for details.

---